Chicken Wings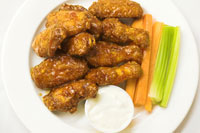 Chicken wings, once considered inedible and used only for making stock, have become one of the hottest (pun intended) appetizers on the food scene. Because of their size they are easy to pick up and eat with your fingers. They are still a relatively inexpensive cut of chicken and you can make large batches of them pretty easily - making them perfect party food.

Raw chicken wings can be purchased in most supermarkets. They may come whole, where you have to cut the tip off yourself and separate the drumette from the wing. Or they may come pre-cut, taking some of the prep work out of the way.

Helpful Hint: A dozen chicken wings weighs about 2 pounds.
Asian Spiced Chicken Wings
Made with soy sauce, brown sugar, ketchup, ginger, garlic, sherry, hoisin sauce, lime juice, sesame seeds, green onions
oven, crock pot
Boneless Buffalo Wings
Made with butter, water, Hot Sauce, skinless chicken breast, flour, salt, buttermilk, black pepper, vegetable oil
stovetop, deep fryer
Chicken Wings
Made with soy sauce, chicken wings, brown sugar, mustard
stovetop, crock pot
Spicy Cajun Buffalo Wings
Chicken wings are combined with spicy ingredients like spicy bbq sauce, cayenne pepper, jalapeno sauce, Tabasco, and Cajun seasoning in the crock pot and slowly simmered until tender (and HOT!)
crock pot
Real Anchor Bar Buffalo Wings
Made with Worcestershire sauce, hot sauce, chicken wing, margarine, white vinegar, celery seed, cayenne pepper, red pepper, garlic salt, black pepper
stovetop, deep fryer
Marinated Chicken Wings
Made with ground ginger, sugar, chicken wings, soy sauce, white wine or chicken broth, vegetable oil, garlic
crock pot
Mexican Chicken Wings
Cumin and chili powder help heat up these hot wings. They are baked instead of fried and are falling-off-the-bone tender.
oven, stovetop
Hooter's Hot Wings
Made with hot wing sauce, cayenne pepper, chicken wings, whole wheat flour, all-purpose flour, salt, paprika
deep fryer
Oven BBQ Chicken Wings
Made with barbecue sauce, chicken wings, flour, paprika, garlic salt, black pepper, butter
oven
Honey BBQ Wings
Made with Tabasco sauce, black pepper, chicken wings, honey, ketchup, vinegar, seasoned salt
crock pot