home > recipes > meals / dishes > appetizers & snacks > meat and poultry appetizers > chicken appetizers > chicken wings
Chicken Wings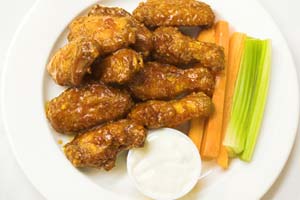 Chicken wings, once considered inedible and used only for making stock, have become one of the hottest (pun intended) appetizers on the food scene. Because of their size they are easy to pick up and eat with your fingers. They are still a relatively inexpensive cut of chicken and you can make large batches of them pretty easily - making them perfect party food.

Raw chicken wings can be purchased in most supermarkets. They may come whole, where you have to cut the tip off yourself and separate the drumette from the wing. Or they may come pre-cut, taking some of the prep work out of the way.

Helpful Hint: A dozen chicken wings weighs about 2 pounds.
featured chicken wings recipe
Made with Worcestershire sauce, hot sauce, chicken wing, margarine, white vinegar, celery seed, cayenne pepper, red pepper, garlic salt, black pepper
view recipe
chicken wings recipes
Spicy to sweet barbecue flavors on grilled, baked, or fried chicken wings.

view recipes
Get our best recipes delivered right to you!
Sign up for our newsletters that feature hand-picked recipes
search the chicken wings recipes