Bread Dipping Oils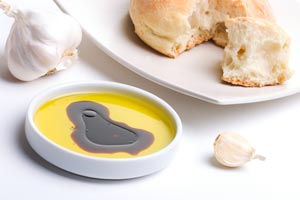 Oil and seasonings to dip bread in like those found in Italian restaurants. Great as an appetizer before a meal, or simply served along side your favorite wine.
Carrabba's Herb Oil for Dipping Bread

26 reviews 5 comments
Made with extra virgin olive oil, kosher salt, crushed red pepper, black pepper, dried oregano, dried rosemary, dried basil, parsley, garlic
Carraba's Bread Dipping Sauce

8 reviews 1 comment
Fresh herbs like basil, parsley, and rosemary are what make this bread dipping sauce recipe a close copycat to Carraba's version.
Bread Dipping Olive Oil

1 review
Made with black pepper, salt, olive oil, sun-dried tomato paste, dried basil, dried thyme, dried rosemary, garlic
Italian Bread Dip
Made with salt and fresh pepper, water, walnuts, garlic, olive oil, italian parsley
Bread Dip Mix

3 reviews
Made with salt, garlic, crushed red pepper, black pepper, dried oregano, dried rosemary, dried basil, parsley, garlic powder