home > recipes > meals / dishes > appetizers & snacks > ethnic appetizers > asian appetizers
Asian-Style Appetizers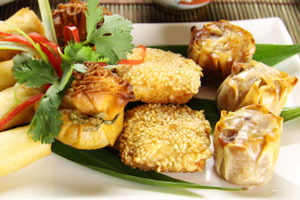 Delicious as an appetizer or side dish. Many varieties to choose from like spring rolls, crab rangoon, dumplings and lumpia. These recipes work great on a buffet, sit down meal, or for dim sum.
cdkitchen's recommended recipes
Baked Egg Rolls
Made with corn starch, soy sauce, cabbage, mung bean sprouts, carrot, green onions, garlic, ground turkey or hamburger, mixture of mushrooms, more cabbage, bean sprouts and/or carrots
get the recipe →
Thai Crab Rolls
Made with butter or olive oil, garlic, onion, celery, carrot, fresh shiitake mushroom caps -- coarsely chopped, lump crabmeat -- fresh or canned, well picked over, fish sauce, salt
get the recipe →
Shrimp Rangoon
Made with won-ton wrappers, Tabasco sauce, garlic, cream cheese, shrimp, green onions, Worcestershire sauce, soy sauce
get the recipe →
Get our best recipes delivered right to you!
Sign up for our newsletters that feature hand-picked recipes