home > recipes > meals / dishes > appetizers & snacks
Appetizers and Snacks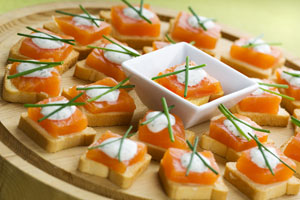 Appetizers can be a casual snack, the center of attention at a cocktail party, or the precursor to an entree. Find something for any occasion - from simple finger food to elegant hors d'oeuvres - dips, salsa, stuffed mushrooms, hot bites and cold nibbles, chicken wings and so many more tasty tidbits!
featured appetizer and snack recipe
Made with elbow macaroni, butter, Spanish paprika, parmigiano-reggiano cheese, all-purpose flour, mayo, milk, Cheddar cheese, American cheese, egg yolk
view recipe
appetizer and snack recipes
Get our best recipes delivered right to you!
Sign up for our newsletters that feature hand-picked recipes
search the appetizer and snack recipes