Appetizers and Snacks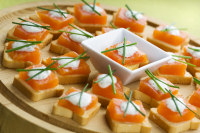 Appetizers can be a casual snack, the center of attention at a cocktail party, or the precursor to an entree. Find something for any occasion - from simple finger food to elegant hors d'oeuvres - dips, salsa, stuffed mushrooms, hot bites and cold nibbles, chicken wings and so many more tasty tidbits!
Homemade Granola
Made with raisins or dried cranberries, vanilla, oats, almonds, brown sugar, salt, ground cinnamon, vegetable oil, honey
oven
Canned Salsa
Made with lime juice, cider vinegar, salt, tomatoes, jalapeno peppers, onion, garlic, fresh cilantro
stovetop
Baked Jalapeno Poppers
Made with sour cream, jalapeno peppers, cream cheese, sharp Cheddar cheese, garlic powder, ground chipotle pepper, eggs, breadcrumbs, salt
oven
Batter Fried Mushrooms
Made with fresh mushrooms, flour, Parmesan cheese, salt, garlic powder, water, shortening, egg
stovetop
Carraba's Bread Dipping Sauce
Fresh herbs like basil, parsley, and rosemary are what make this bread dipping sauce recipe a close copycat to Carraba's version.
Caramel Crispix
Made with baking soda, salt, Crispix cereal, butter, brown sugar, corn syrup
microwave