Copy Cat Recipes: P - Restaurants and Brands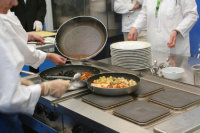 PF Chang's, Panda Express, Papa John's, Pizza Hut, Planet Hollywood, Ponderosa, Popeye's, etc
Panera Bread Broccoli Cheese Soup
Panera is known for their delicious soups and this recipe is no exception. It's made with fresh broccoli and lots of cheddar cheese.
stovetop
Pizza Hut Original Pan Pizza
Make your own Pizza Hut pan pizza at home. This copycat recipe for the crust and sauce tastes just like the pizzas you get at Pizza Hut.
oven
P.F. Chang's Lettuce Wraps with Chicken
Made with water chestnuts, lettuce leaves, ground chicken, onion, garlic, soy sauce, hoisin sauce, fresh ginger, rice wine vinegar, chili pepper sauce
stovetop
Panda Express Orange Chicken
Made with white pepper, oil, cornstarch, flour, ginger root, garlic, hot red chilies, green onions, rice wine
stovetop, deep fryer
PF Chang's Shrimp Fried Rice
Made with ground mustard, ginger, garlic, molasses, soy sauce, non-stick cooking spray, egg substitute, Salt and pepper, shrimp, canola oil
stovetop
Popeye's Fried Chicken
Made with self-rising flour, cornstarch, seasoned salt, paprika, baking soda, Italian salad dressing mix, onion soup mix, spaghetti sauce mix, sugar, Corn flakes cereal
stovetop, oven
PF Chang's Coconut Curry Vegetables
Made with brown sugar, onion, red bell pepper, mushrooms, broccoli, carrots or whole sugar snap peas, coconut milk, soy sauce, curry powder
stovetop
Popeye's Cajun Rice
Made with black pepper, water, ground beef, bell pepper, green onions, garlic powder, celery flakes, Creole seasoning, red pepper, long grain rice
stovetop