home > recipes > copycat recipes > fast food restaurants
Fast Food Restaurants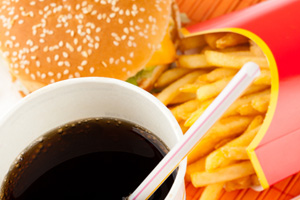 jump to the recipes

The term "fast food" hit the dining scene in the 1950's when inexpensive restaurants opened that only sold a few limited specialty items, typically that were pre-cooked or pre-packaged. Hamburgers, hot dogs, fries, pizzas and shakes were the front-runners in this new dining concept. Most of the original "fast food outlets" were drive-ins, where you parked your car at a stall and ordered without ever having to leave your vehicle. I have fond memories of going to A&W as a kid with my parents and ordering at the little stalls. Initially they had waitresses that came and took your order but technology quickly evolved to where you ordered from a speaker on a box that displayed the menu. Eventually, for many restaurants this evolved into the "drive through", where instead of sitting and eating in your car where you ordered, you would drive up to a window to order your food and then left once you got it. Some restaurants, like Sonic, still have the drive up stalls for you to order and eat at.

Most fast food restaurants now also have indoor service where you order at a counter and then sit at tables to eat your food (or, you can get the food to go). The most common items at these restaurants are still burgers (Burger King), fries (McDonald's), and pizza (Pizza Hut, Dominos, Godfathers), but more items have become popular as well. Both fried chicken (KFC) and Mexican-style foods (Taco Bell, Chipotle) are wildly popular.

Fast food has also become a popular fixture at shopping malls. The food courts are typically lined with nothing but fast food counters including such popular places as Aunt Annie's (famous for pretzels), Cinnabon with their amazing cinnamon rolls, and Panda Express with quick Asian-style food.