Alphabetical Copy Cat Recipes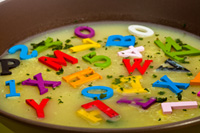 Find your favorite copy cat recipe by name using our alphabetical listings. From Applebee's to Z'Tejas we have your favorite recipes from restaurants and brands.

Do you love the soup from Panera Bread? Or what about the famous mall pretzels from Auntie Anne's? We've collected all the best copycat versions of these recipes so you can try them at home.

If you don't feel like waiting for pizza delivery, try making Pizza Hut's original pan pizza. It's getting rave reviews. Want the great food from Olive Garden but don't feel like waiting 30 minutes for a table on a Friday night? No problem. We've got copycat recipes for their spinach dip, pasta e fagioli, and chicken marsala so you can have a full course dinner at home.

Browse the listings below or use the alphabetical filter to jump quickly to your favorite restaurant.
Panera Bread Broccoli Cheese Soup
Panera is known for their delicious soups and this recipe is no exception. It's made with fresh broccoli and lots of cheddar cheese.
stovetop
Pizza Hut Original Pan Pizza
Make your own Pizza Hut pan pizza at home. This copycat recipe for the crust and sauce tastes just like the pizzas you get at Pizza Hut.
oven
P.F. Chang's Lettuce Wraps with Chicken
Made with water chestnuts, lettuce leaves, ground chicken, onion, garlic, soy sauce, hoisin sauce, fresh ginger, rice wine vinegar, chili pepper sauce
stovetop
Aunt Annie's Soft Pretzels
Just like the pretzels you get at the mall. This copy cat version of Auntie Anne's is easy and delicious.
oven
Red Lobster Biscuits
Made with garlic powder, margarine or butter, baking mix, milk, cheddar cheese
oven
Olive Garden Pasta E Fagioli
Made with oil, ground beef, onion, carrots, celery, tomatoes, red kidney beans, white kidney beans, beef stock, oregano
stovetop