Copy Cat Recipes: A - Restaurants and Brands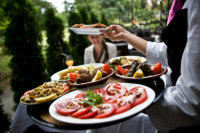 This is our collection of restaurant and brand recipes that start with the letter "a".

There are a lot of noteworthy restaurants that fall into this category. One of the more popular of those is the American-style casual dining chain restaurant, Applebee's. The original restaurant was opened in 1980 and since then has expanded to over 2,000 locations nationwide. They have lots of signature dishes such as the walnut blondie dessert, Santa Fe stuffed chicken, and their "perfect margarita".

If you've been to a shopping mall in recent years you've probably seen the famous pretzel shop, Auntie Anne's. They make a delicious, large soft pretzel that is served with a dipping sauce. We've got a copy cat recipe for it that we think you'll love.

One of the oldest restaurants in our collection is A&W, which started it's first franchises in the 1920's. They became famous for their root beer served in a frosty mug. They are also known for their onion rings, chili dogs, and cream soda.

We also have copycat recipes from Arby's, Anchor Bar (home of the buffalo wing), Arnaud's, Abuelo's and so many more!
Aunt Annie's Soft Pretzels
Just like the pretzels you get at the mall. This copy cat version of Auntie Anne's is easy and delicious.
oven
Applebee's Perfect Margarita
This copy cat version of Applebee's popular drink is indeed, a perfect margarita! Use good brands of tequila and sweet and sour mix (or make your own) for best results.
Applebee's Walnut Blondie With Maple Butter Sauce
Made with flour, baking powder, baking soda, salt, walnuts, butter, brown sugar, egg,, vanilla extract, white chocolate chips
stovetop, oven
Applebee's Bahama Mama
Made with cherry, pineapple, rum, Malibu rum, banana liqueur, grenadine, pineapple juice, orange juice, lemon lime soda
4 B's Tomato Soup
Made with cream, tomatoes, chicken broth, butter, sugar, onion, baking soda
stovetop
A&W Coney Island Sauce
Made with salt, celery seed, ground beef, onions, tomato paste, tomato puree, sugar, cider vinegar, chili powder, black pepper
stovetop
Applebee's Honey Pepper Sauce For Salmon
Made with paprika, cayenne pepper, honey, soy sauce, brown sugar, pineapple juice, lemon, white distilled vinegar, olive oil, black pepper
outdoor grill, stovetop
Applebee's Santa Fe Stuffed Chicken
Made with green bell pepper, red bell pepper, black pepper, skinless, boneless chicken breast halves, Monterey Jack cheese, butter, bread crumbs, Parmesan cheese, salt, cumin
oven, stovetop
Arby's Apple Turnovers
A homemade version of the popular apple turnovers from the Arby's fast food chain. Made with puff pastry sheets, apples, sugar, and cinnamon and drizzled with a sugar glaze.
oven, stovetop