home > recipes > copycat recipes > copycats a to z > A - A&W to Azalea Grill
Copy Cat Recipes: A - Restaurants and Brands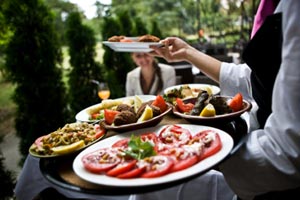 jump to the recipes

This is our collection of restaurant and brand recipes that start with the letter "a".

There are a lot of noteworthy restaurants that fall into this category. One of the more popular of those is the American-style casual dining chain restaurant, Applebee's. The original restaurant was opened in 1980 and since then has expanded to over 2,000 locations nationwide. They have lots of signature dishes such as the walnut blondie dessert, Santa Fe stuffed chicken, and their "perfect margarita".

If you've been to a shopping mall in recent years you've probably seen the famous pretzel shop, Auntie Anne's. They make a delicious, large soft pretzel that is served with a dipping sauce. We've got a copy cat recipe for it that we think you'll love.

One of the oldest restaurants in our collection is A&W, which started it's first franchises in the 1920's. They became famous for their root beer served in a frosty mug. They are also known for their onion rings, chili dogs, and cream soda.

We also have copycat recipes from Arby's, Anchor Bar (home of the buffalo wing), Arnaud's, Abuelo's and so many more!
12th Street Cantina Chipotle Maple Barbecue Sauce
1 review
Made with Mexican oregano, vegetable oil, onion, garlic, ancho chili puree, New Mexican chile puree, tomato puree, maple syrup, chipotle chili puree, cilantro
stovetop
1878 Steak House's Beef Forestiere
1 review
Made with mushrooms, black pepper, brown sauce, Dijon mustard, dry vermouth, Madeira wine, butter, flour, beef stock or broth
oven, stovetop
201 Restaurant & Bar Cream Cheese Crab Cakes
1 review
Made with bread crumbs, crab meat, cream cheese, red bell pepper, red onions, celery, hot sauce, Creole seasoning, salt
stovetop
21 Club Hamburger
1 review 1 comment
Made with butter, salt and freshly ground black pepper, celery, chicken broth, ground top sirloin, bread crumbs, Worcestershire sauce, nutmeg
oven, stovetop
21 Club Rice Pudding
Made with raisins, milk, heavy cream, salt, vanilla bean, long-grained rice, sugar, egg yolk, whipped cream
oven, stovetop
21 Club's Steak Diane
2 reviews
Made with beef broth, New York strip steak, salt, black pepper, butter, shallots, cognac, dry white wine or dry vermouth, Dijon mustard, steak sauce
stovetop
4 B's Tomato Soup
13 reviews 4 comments
Made with cream, tomatoes, chicken broth, butter, sugar, onion, baking soda
stovetop
411's Herb Rolls
Made with parsley, basil, yeast, water, buttermilk, sugar, salt, butter, flour, oregano
oven