Crockpot Soups And Stews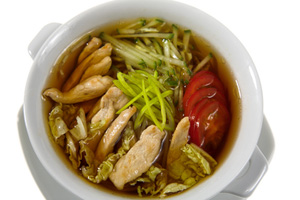 Let's face it - this is what the crockpot is best at. While we savvy slow cookers know that there are many more uses for our beloved appliance, we usually come back to the basics: soups and stews.

These recipes can be simmered for long periods of time which enhances and melds the flavors. And you can vary the ingredients so much that you pretty much have an endless selection of recipes. Slowly cook some chicken soup to soothe the soul or fill a hungry tummy with a hearty chili.
CDKitchen's Recommended Recipes
Bayou Gumbo
Made with flour, oil, smoked sausage, okra, onion, green bell pepper, garlic, red cayenne pepper, black pepper, tomatoes
get the recipe →