Crock Pot Side Dishes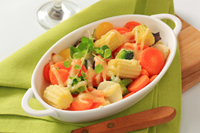 The beauty of the crockpot is that you can cook such a wide variety of recipes in it. Like, your side dish. Things that require long cooking times, like baked beans, are ideal. Vegetables stay tender because of the steam generated inside the crock. You can also cook rice, grains and even stuffing - making your crockpot a real asset in the kitchen.
Ranch Mushrooms
Three ingredients make up this popular crock pot side dish: mushrooms, ranch salad dressing mix, and butter.
crock pot
Brown Rice
A foolproof way to cook brown rice by using the slow cooker. Perfectly cooked every time.
crock pot
Corn Pudding
Made with nutmeg, salt, margarine or butter, milk, sweet corn, cream cheese, eggs, sugar, corn bread or muffin mix, cream-style corn
crock pot
Southern Black Eyed Peas
Made with ham hocks, dried black eyed peas, water, salt, black pepper, onion, celery, salt pork or lean ham
crock pot
Broccoli Rice Cheese
Made with frozen chopped broccoli, Cheez Whiz, water, onion, butter, instant rice, cream of mushroom soup, salt
crock pot
Sweet Potato Casserole
Made with flour, sweet potatoes, margarine or butter, sugar, orange juice, eggs, milk, pecans, brown sugar
crock pot
Cheesy Corn
Made with frozen corn, cream cheese, butter or margarine, milk, water, sugar, American cheese
crock pot
Parmesan Risotto
Love risotto but don't have time to stand around stirring? Try this delicious crock pot recipe that uses arborio rice, white wine, chicken broth, and parmesan cheese.
crock pot, stovetop
Mushroom Wild Rice
Mushrooms and a combination of brown and wild rice are slow cooked in a rich broth made from beef consomme and French onion soup.
crock pot
Baked Beans
Dress up a simple can of baked beans by adding mustard, ketchup, barbecue sauce, brown sugar, and of course - bacon! Let it simmer all day or cook on high for faster results.
crock pot
Black Eyed Peas
Made with oregano, dried black-eyed peas, water, salt pork, garlic, salt, black pepper
crock pot