On The Grill: Catfish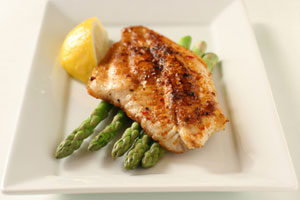 jump to the recipes

Cooking fish on the grill is a nice (and healthy) change from the usual ribs, brats and burgers. Also because fish is quick to cook, it means dinner can be ready that much faster.

Catfish is good on the grill because it is a firm fleshed fish. It won't fall apart as easily as other fish do. It's got a mild flavor which helps it stand up to bold additions like sauces and marinades. It works well with both citrus and spicy flavors.
Grilled Lemon-Pepper Catfish

1 review
Made with lemon pepper seasoning mix, butter, catfish, vegetable cooking spray, lemon juice
outdoor grill
Grilled Catfish Cajun-Style
Made with lemon wedges and celery tops, non-stick cooking spray, lemon pepper seasoning, white pepper, Creole seasoning, blackened fish seasoning, lemon juice, catfish fillets
outdoor grill
Spicy Grilled Catfish

1 review
Made with catfish fillets, olive oil, lime juice, wine, dry mustard, chili powder, black pepper, fresh cilantro, salt
outdoor grill, oven
Herbed Grilled Catfish

1 review
Made with paprika, garlic powder, salt, black pepper, dried thyme, dried oregano, ground red pepper, catfish fillets, non-stick cooking spray, oregano
outdoor grill
Creole Catfish
Made with salt, onion powder, paprika, lemon peel, dried thyme, ketchup, Dijon mustard, mayonnaise, onion, reduced-fat plain yogurt
Grilled Catfish with Corn Relish
Made with salt and black pepper, cayenne pepper, Cajun seasoning, olive oil, catfish fillets, ears sweet corn, red or green bell pepper, yellow onion, lemon juice
outdoor grill
Catfish With Black Bean And Avocado Relish

1 review
Made with black beans, cayenne pepper, salt, olive oil, green onion, fresh oregano, fresh cilantro, lime juice, lime peel, fresh or frozen catfish fillets, about 1/2 inch thick
Grilled Catfish And Yam Kabobs
Made with Additional vegetables optional, red onion, cut into eighths, portabella mushrooms cut into fourths, sweet potatoes, peeled and sliced into circles, catfish fillets, cut into pieces
Zesty Catfish Spears
Made with non-stick cooking spray, catfish fillets, black pepper, salt, fennel seeds, lemon rind
Grilled Catfish With Scallion-Anchovy Vinaigrette
Made with salt, catfish fillets (6 oz. size), black pepper, anchovy fillets, drained, patted dry, finely chopped, scallions, lemon juice, red wine vinegar, Dijon mustard, olive oil