home > recipes > cooking method > george foreman grill
Cooking With The George Foreman Grill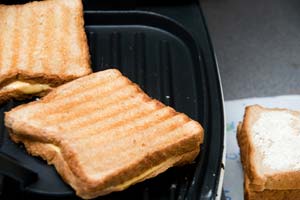 jump to the recipes

Tasty recipes using the popular George Foreman grill.

Introduced in the mid 1990's, this small kitchen appliance is a cross between a sandwich machine and an indoor grill. Its original selling point was that it cooked foods on both sides at once while letting the fat drip off, therefore making meals healthier. It has evolved in usage to be an all-purpose indoor grilling machine.

While it still makes a pretty darned good (and lean) burger, you'll find lots of other recipes here including grilled salmon with fresh pineapple salsa, bacon and grilled cheese sandwiches, or even chicken monterey quesadillas. Best of all, the George Foreman grill is quick cooking, easy to clean up, and you don't have to deal with charcoal as with an outdoor grill.
George Foreman Grill Cinnamon French Toast
2 reviews
Made with cinnamon swirl or cinnamon raisin bread, egg, milk, vanilla extract
indoor grill
Lowfat Salmon Patties George Foreman Grill
1 review
Made with salt and freshly ground pepper, flour, pink salmon, egg beaters, onion, cracker crumbs
indoor grill
Grilled Bacon - George Foreman Grill
5 reviews 2 comments
Made with bacon
indoor grill
Salmon with Fresh Pineapple Salsa
3 reviews
Made with cumin, skinless salmon fillet, jalapeno pepper, fresh pineapple, red bell pepper, red onion, lime juice, fresh cilantro or chives, honey
indoor grill
George Foreman Grilled Catfish
2 reviews
Made with olive oil, catfish filets, seasoned salt, lemon pepper
indoor grill
Grilled Pork Cutlet with Rosemary
1 review
Made with salt and pepper, boneless pork cutlet, lemons, olive oil, honey, dried rosemary
outdoor grill
Chicken Quesadillas
Made with vegetable oil, green bell pepper, purple onion, cumin, cooked chicken breast, diced tomatoes, cilantro, salt, black pepper, flour tortillas
stovetop, sandwich maker
Grilled Lemon Pepper Chicken
Made with boned and skinned chicken breast halves, Italian salad dressing, lemonade-flavored drink mix, black pepper
outdoor grill
George Foreman Polynesian Steak
3 reviews
Made with steaks, soy sauce, garlic, honey
indoor grill