Cook Time
Nutrition
Recipe Newsletter
Cooking With The George Foreman Grill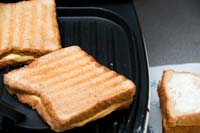 Tasty recipes using the popular George Foreman grill.

Introduced in the mid 1990's, this small kitchen appliance is a cross between a sandwich machine and an indoor grill. Its original selling point was that it cooked foods on both sides at once while letting the fat drip off, therefore making meals healthier. It has evolved in usage to be an all-purpose indoor grilling machine.

While it still makes a pretty darned good (and lean) burger, you'll find lots of other recipes here including grilled salmon with fresh pineapple salsa, bacon and grilled cheese sandwiches, or even chicken monterey quesadillas. Best of all, the George Foreman grill is quick cooking, easy to clean up, and you don't have to deal with charcoal as with an outdoor grill.
Grilled Halibut
Ingredients: black pepper, honey, white wine vinegar, onion, halibut steaks, lime
indoor grill
Hide Dish Data™ ▼
Nutrition per serving:
140 calories, 3g fat, 4g carbs, 24g protein. Recipe is: Low in carbs. Low in sodium.
Salmon with Fresh Pineapple Salsa
3 reviews

Ingredients: honey, fresh cilantro or chives, lime juice, red onion, red bell pepper, fresh pineapple, jalapeno pepper, skinless salmon fillet, cumin
indoor grill
Show Dish Data™ ▼
George Foreman Grilled Catfish
1 review

Ingredients: lemon pepper, seasoned salt, catfish filets, olive oil
indoor grill
Show Dish Data™ ▼
Grilled Bacon - George Foreman Grill
2 reviews

Ingredients: bacon
indoor grill
Show Dish Data™ ▼
Zesty Steak
Ingredients: Worcestershire sauce, brown sugar, vegetable oil, lemon juice, garlic powder, tomato soup, steak, garlic powder, dried thyme
outdoor grill, stovetop
Show Dish Data™ ▼
Grilled Shrimp
Ingredients: black beans, fresh cilantro, green onions, tomato, non-stick cooking spray, shrimp, garlic, honey, Worcestershire sauce
indoor grill
Show Dish Data™ ▼