Crock Pot Cooking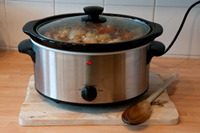 Don't overlook the slow cooker as being just as valuable a kitchen tool as your stove or oven. While it's long been recognized as an ideal way to cook roasts and stews, it can do so much more - and we'll show you how. Our recipe collection will let you bake bread, fix breakfast, and even make a cake (in addition to all the tasty dinner and side dish recipes).
use the

+

and

-

buttons to view more content
slow cooker tips!

Place vegetables in the bottom of the crock pot and place meat on top. Fresh vegetables like carrots and potatoes take the longest to cook. Frozen vegetables may be placed on top of meat as they usually do not take as long.
browse by crockpot category
recipe of the week
Shrimp Creole
Submitted by:
supersalad
photo by:
CDKitchen
A simple yet delicious way to have seafood in the crock pot. It has all the traditional ingredients of authentic shrimp creole.
Want to get the weekly featured crockpot recipe in your email instead? Sign up for our
newsletter
.
savvy slow cooking
CDKitchen's slate of cooking experts have cooked up some delicious articles on crock pot cooking including tips, recipes, and some creative ways to use your slow cooker.
-
+
convert your favorite recipes
Crockpot
Oven Or Stovetop
High Temp
300F
Low Temp
200F
15-30 minutes
1 1/2 - 2 1/2 hrs
4 - 8 hrs
35-45 minutes
3 - 4 hrs
6 - 10 hrs
50 minutes - 3 hours
4 - 6 hrs
8 - 16 hrs
cooking times

Crock pot cooking times listed with the recipes are guidelines - actual cooking times may vary based on the brand of crock pot, size, amount of liquid or food, ingredient temperatures, etc. Certain brands cook at a much higher temperature than others. Get to know your crock pot so you can adjust times accordingly.