home > recipes > cooking method > crock pot
Crock Pot Cooking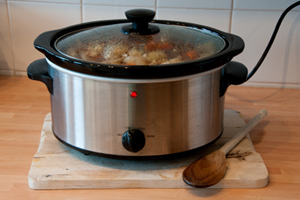 Don't overlook the slow cooker as being just as valuable a kitchen tool as your stove or oven. While it's long been recognized as an ideal way to cook roasts and stews, it can do so much more - and we'll show you how.

Our recipe collection will let you bake bread, fix breakfast, and even make a cake in your crock pot (in addition to all the tasty dinner and side dish recipes).
view entire crock pot recipe collection
featured crock pot recipe
Get the creamy texture of risotto without all the work by making it in your crock pot instead. This recipe calls for brown rice, vegetable stock, cream of mushroom soup, fresh mushrooms, and basil.
view recipe
recent crock pot recipes
Dress up some simple cans of beans by adding mustard, ketchup, brown sugar, and of course - bacon! Let it simmer all day in the crock pot on low or cook on high for faster results.

view recipe

An all-purpose taco filling made with ground beef, refried beans, brown rice, and salsa. Freezes well.

view recipe
Get our best crock pot recipes delivered right to you!
Sign up for our newsletters that feature hand-picked recipes
crock pot recipe categories
today's top 10 crock pot recipes
convert your favorite recipes to crock pot recipes
Crockpot
Oven Or Stovetop
High Temp
300F
Low Temp
200F
15-30 minutes
1 1/2 - 2 1/2 hours
4 - 8 hours
35-45 minutes
3 - 4 hours
6 - 10 hours
50 minutes - 3 hours
4 - 6 hours
8 - 16 hours
Cooking times will also vary by how full your crock pot is, how dense the ingredients are, and the temperature of the foods when you add them.
crock pot 101
1) A properly working crock pot uses as about as much electricity and resources as a light bulb - making it more economical than using your stove! It also won't heat up your kitchen in the summer months.

2) Place vegetables in the bottom of the crock pot and place meat on top. Fresh vegetables like carrots and potatoes take the longest to cook. Frozen vegetables may be placed on top of meat as they usually do not take as long.

3) Crock pot cooking times listed with the recipes are guidelines - actual cooking times may vary based on the brand of crock pot, size, amount of liquid or food, ingredient temperatures, etc. Certain brands cook at a much higher temperature than others. Get to know your crock pot so you can adjust times accordingly.

4) The crock pot should be filled 2/3rds full when cooking for best results. Scale recipes up or down to fit your size crock pot.

5) Make sure the lid fits snuggly. Crock pots create extra steam inside to keep foods moist. If the lid lets that steam out your food may dry out or even burn.

6) Do not put large pieces of frozen meat (such as whole chickens or roasts) in the crock pot. They will not heat evenly and dangerous bacteria can form in a short amount of time.


slow cooking advice and articles