Crock Pot Cooking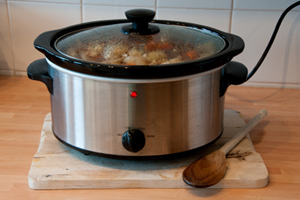 Don't overlook the slow cooker as being just as valuable a kitchen tool as your stove or oven. While it's long been recognized as an ideal way to cook roasts and stews, it can do so much more - and we'll show you how.

Our recipe collection will let you bake bread, fix breakfast, and even make a cake (in addition to all the tasty dinner and side dish recipes).
Get the featured crock pot recipe via email by signing up for our newsletter
Loaded Baked Potato Soup
The delicious flavors of a loaded baked potato slow cooked into a soup. This recipe is made with potatoes, onion, chicken broth, cream, Cheddar cheese, and topped with sour cream, bacon, and additional cheese when serving.
Slow Low Country Boil
A flavorful slow cooker version of a seafood boil with shrimp, smoked sausage, potatoes, and corn.
Ranch Mushrooms
Three ingredients make up this popular crock pot side dish: mushrooms, ranch salad dressing mix, and butter.
Make-Ahead Egg Casserole
Baby Back Ribs
These ribs were simply the BEST! I don't know why I ever hesitated to cook them in my slow cooker! The cut I used was a 3-lb Pork Loin Baby Back Ribs. The recipe is super easy and they came out so tasty, fall off the bone GOOD! My husband said that I could make these for dinner anytime that I wanted! -CHITA64
Pork Chops In Cream Of Mushroom Soup
Pork chops are slow cooked in the soup which makes a flavorful (and easy!) gravy.
Spicy Southwestern Chili
Pineapple Pork
What a delightful and tasty dish. This was my first try using one of your recipes and I was thrilled with the result. It's pretty on the plate, too. I paired it with some Cal-Rose rice and it made a nice combo. -LORI
Garlic Chicken Alfredo
Classic fettucine alfredo flavors made easy in the crock pot. Boneless chicken, alfredo sauce, mushrooms are slow cooked and served over pasta.
Celery And Beef Soup
Sweet Jalapeno Ribs
Beef with Chipotle Pepper