Crock Pot Whole Chicken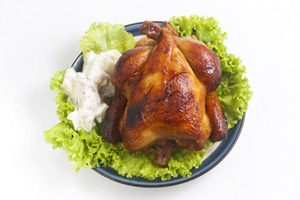 jump to the recipes

These recipes use a whole chicken in the crockpot. Some of them keep the chicken in a whole piece like the honey mustard roast chicken while others cut up the chicken into thighs, breast, wings and other pieces. If using the chicken whole note that it will be extremely tender when done and you'll need to take it out of the crockpot carefully so it doesn't fall apart (unless that's what you want! it's still tasty that way).

For recipes that call for the chicken cut into pieces, you can usually substitute just your favorite pieces or leg quarters. One note, however, is that cooking times may vary if you are using only white meat since it cooks faster than the dark meat pieces.
Busy Day Roast Chicken

3 reviews 1 comment
Made with salt and pepper, chicken, stuffing mix, water, carrots
stovetop, crock pot
Smothered Chicken

1 review
Made with poultry seasoning, mushrooms, garlic, French onion soup, chicken, boneless chicken breasts, cream of mushroom soup, cream of chicken soup, onion
crock pot
Tarragon Chicken
Made with water, chicken, butter, garlic salt, tarragon, dried parsley, ground black pepper, vinegar, cornstarch
stovetop, crock pot
Herb Roasted Chicken

2 reviews
Made with olive oil, non-stick cooking spray, water, kosher salt, black pepper, rosemary, thyme, oregano, chicken
crock pot
Chicken with Bbq Sauce

1 review
Made with whole chicken, barbecue sauce
crock pot
Barbecued Chicken
Made with black pepper, salt, chicken, onion, cola, ketchup, brown sugar
crock pot
Easy Crockpot Dinner
Made with water, beef roast or chicken, cream of mushroom or celery soup, potatoes, carrots
crock pot
Adobo Chicken
Made with whole chicken, vinegar, soy sauce, garlic, sweet onion
crock pot
Sticky Chicken

1 review
Made with onion, roasting chicken, salt, paprika, cayenne pepper, onion powder, thyme, white pepper, garlic powder, black pepper
crock pot, oven
Cola Chicken
Made with whole chicken, cola, ketchup, onion
crock pot
Honey Chicken

1 review
Made with curry powder, salt, prepared mustard, honey, butter, whole chicken
crock pot