Crock Pot Sweet Potato And Yams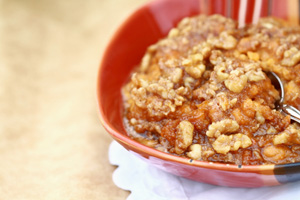 jump to the recipes

One of the best things about these recipes is that you don't have to give up oven or stovetop space to make them! Cooking them in your crockpot frees up your time too since you put them together many hours before you are ready to eat.

We have lots of recipes for the family-favorite candied yams (delicious sweet potatoes or yams covered in a sweet glaze with marshmallows on top). But, we have some new twists as well so you can change up your routine like sausage-stuffed or peach glazed.
Sweet Potato Casserole

4 reviews
Made with flour, sweet potatoes, margarine or butter, sugar, orange juice, eggs, milk, pecans, brown sugar
crock pot
A Very Sweet Crock of Potatoes

3 reviews 1 comment
Made with pecan, sweet potatoes, brown sugar, butter, cinnamon, applesauce
crock pot
Orange-Spiced Sweet Potatoes

6 reviews 1 comment
Made with pecans, vanilla extract, salt, sweet potatoes, brown sugar, butter, ground cinnamon, ground nutmeg, orange
crock pot
Sweet Potatoes With Apples
Made with pecan, butter, maple flavored syrup, sweet potatoes, apples, ground nutmeg, ground cinnamon
crock pot
Sweet Sweet-Potatoes

4 reviews
Made with vanilla extract, coconut extract, cinnamon, sweet potatoes, brown sugar, butter, flaked coconut, pecans
crock pot
Candied Yams and Cranberry Casserole

1 review
Made with black pepper, yams or sweet potatoes, brown sugar, butter, salt, cranberries
crock pot, stovetop, oven
Sweet Potatoes And Pineapple

1 review
Made with nuts, flour, sweet potatoes, pineapple pie filling, butter, cinnamon, brown sugar
oven, crock pot
Super Sweet Potatoes
Made with maple syrup, butter or margarine, brown sugar, sweet potatoes, walnuts, ground cinnamon, nutmeg, salt
crock pot
Peachy Glazed Sweet Potatoes

1 review
Made with ground cinnamon, sweet potatoes, peach pie filling, margarine or butter, ginger root, salt, brown sugar
stovetop, crock pot
Maple Almond Sweet Potatoes

1 review
Made with vanilla extract, almonds, sweet potatoes, water, crushed pineapple, maple syrup, salt
crock pot
Candied Cran-Apple Yams
Made with orange juice, ground nutmeg, ground cinnamon, yams or sweet potatoes, Golden Delicious apple, fresh or frozen cranberries, brown sugar
crock pot