Crock Pot Soups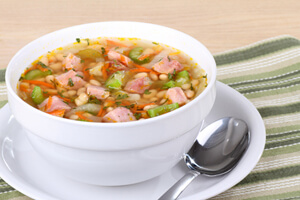 jump to the recipes

Nothing beats a slowly simmered soup on a cold day. Or, a hearty soup waiting for you when you come home from a busy day at work or school. No matter when you want soup, your crockpot is an ideal way to cook it. Try a rich cauliflower cheese soup, a spicy chicken and sausage gumbo, or a hearty 5-bean soup.
Loaded Baked Potato Soup

63 reviews 7 comments
Made with potatoes, onion, chicken broth, garlic, butter, salt, black pepper, cream, sharp Cheddar cheese, chives
crock pot
Bayou Gumbo

10 reviews 2 comments
Sausage, shrimp, okra and rice provide all the great flavors of a classic Louisiana style gumbo in this recipe but with the ease of the crock pot.
crock pot, stovetop
Chicken Tortilla Soup

21 reviews
Made with tomatoes, enchilada sauce, onion, green chilies, garlic, water, chicken broth, cumin, chili powder, salt
oven, crock pot
Split Pea Comfort Soup

10 reviews 1 comment
Made with fresh parsley, dried green split peas, ham bone, ham, carrots, onion, celery, garlic, bay leaf
crock pot
Turkey-Barley Soup

2 reviews
Made with turkey or chicken broth, bay leaf, turkey, dried thyme, pearl barley, dried marjoram, onion, black pepper, celery, fresh parsley
crock pot, stovetop
Turkey Soup

5 reviews
Made with turkey stock, stewed tomatoes, celery, carrots, onion, potatoes, corn, green beans, bay leaves, turkey
crock pot
Chicken Taco Soup

4 reviews
Made with Cheddar cheese, onion, chili beans, black beans, whole kernel corn, tomato sauce, beer, diced tomatoes with green chilies, taco seasoning, boneless, skinless chicken breast halves
crock pot
Stuffed Pepper Soup

3 reviews
Made with seasonings, rice, brown sugar, ground beef, green bell peppers, diced peeled tomatoes, tomato sauce
crock pot
Ham & Bean Chowder
Made with pork and beans, tomato soup, smoked ham, onion, elbow macaroni, stewed tomatoes
crock pot
Pizza Soup

3 reviews
Made with water, tomatoes, onion, green bell pepper, fresh mushrooms, Italian sausage, black olives, pepperoni, dried basil, dried oregano
crock pot
8 Can Soup

5 reviews
Made with lean ground beef, tomato soup, vegetable soup, chili with beans, chili without beans, mixed vegetables, diced tomatoes, diced tomatoes with green chili, whole kernel corn
crock pot
Adzuki Bean Soup

2 reviews
Made with fresh cilantro, lime, cumin, dried adzuki beans, olive oil, carrots, fresh ginger root, garlic, onion
crock pot