Crock Pot Rice And Grain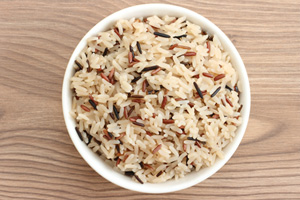 jump to the recipes

You don't normally think of cooking rice and grains in the crockpot, but we found some recipes that will change your mind. How about some parmesan risotto or a Mexican rice and bean casserole?
Brown Rice

8 reviews 1 comment
A foolproof way to cook brown rice by using the slow cooker. Perfectly cooked every time.
crock pot
Parmesan Risotto

5 reviews
Love risotto but don't have time to stand around stirring? Try this delicious crock pot recipe that uses arborio rice, white wine, chicken broth, and parmesan cheese.
crock pot, stovetop
Mushroom Wild Rice

4 reviews
Mushrooms and a combination of brown and wild rice are slow cooked in a rich broth made from beef consomme and French onion soup.
crock pot
Grits

5 reviews 1 comment
Made with butter, cheddar cheese, half-n-half or whipping cream, chicken broth, salt, black pepper, garlic powder, grits, cream cheese
stovetop, crock pot
Broccoli Rice Cheese

2 reviews
Made with frozen chopped broccoli, Cheez Whiz, water, onion, butter, instant rice, cream of mushroom soup, salt
crock pot
Wild Rice Pilaf

1 review
Made with dried thyme, sliced mushrooms, wild rice, onion, salt, black pepper, chicken broth, water
crock pot
Sausage And Vegetable Risotto

1 review
Made with sweet Italian sausages, water, onion, butter, white wine, arborio rice, zucchini, kosher salt, fresh baby spinach, Parmigiano-Reggiano cheese
crock pot, stovetop
Mexican Rice and Bean Casserole

2 reviews
Made with cheddar cheese, long-grain white rice, frozen whole kernel corn, chopped green chilies, turmeric, onion, garlic, spicy chili beans, stewed tomatoes, chicken broth
stovetop, crock pot
Black Beans & Rice
Made with onion, carrots, celery, garlic, cumin, dried basil, chili powder, dried oregano, Tabasco sauce, canned black beans
crock pot
Stuffed Grape Leaves

1 review
Made with grape leaves, oil, onion, white rice, salt, black pepper, allspice, water, lemon juice
stovetop, crock pot
Big Easy Red Beans and Rice

1 review
Made with water, black pepper, red kidney beans, onion, bell pepper, garlic, bay leaf, ham bone, salt, cayenne
crock pot