home > recipes > cooking method > crock pot > dinners and entrees > crock pot meat and poultry > crock pot pork and ham > crock pot pork roasts
Crock Pot Pork Roast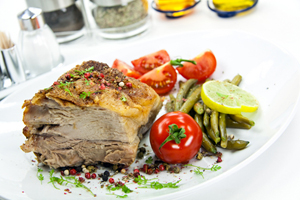 jump to the recipes

Pork roasts are best slow cooked which means using a crockpot is ideal for these recipes. Try a succulent recipe like apricot-glazed pork roast or barbecued boston butt roast.
Easy Pork Roast with Veggies

4 reviews 1 comment
Made with black pepper, pork roast, oil, apples, potatoes, baby carrots, water, salt
crock pot, stovetop
Cuban Pork

6 reviews
Made with water, grapefruit juice, garlic, dried oregano, salt, cumin, black pepper, bay leaves, boneless pork shoulder roast, onion
crock pot
Pork With Apples

8 reviews
Made with cinnamon, flour, pork roast, apples, sugar
crock pot
All Day Herbed Pork Roast

6 reviews 1 comment
Made with salt and pepper, apple, pork roast, thyme, sage, rosemary, bay leaf, basil
crock pot
Barbecue Pork

6 reviews
Made with barbecue sauce, boneless pork roast, whole cloves, onion, water
crock pot
Barbecued Boston Butt Roast

1 review
Made with water, Boston pork butt roast, barbecue sauce
crock pot
Apricot-Glazed Pork Roast

8 reviews
Made with pork loin, Dijon mustard, chicken broth, apricot preserves, onion
crock pot
Root Beer Pork Roast

2 reviews
Made with chili sauce, pork loin, onion, garlic, root beer
crock pot, roaster oven
Asian Pork Roast

7 reviews
Made with garlic, pork roast, soy sauce, orange marmalade, ketchup
crock pot
Pineapple Pork

3 reviews 1 comment
Boneless pork roast is slow cooked in a mixture of crushed pineapple, onion, bell pepper, carrots, brown sugar, tomato paste, soy sauce, and ginger.
crock pot, stovetop
Kalua Pork

3 reviews
Made with Hawaiian salt, pork butt or shoulder, liquid smoke or soy sauce, garlic
crock pot
Pork Stew With Cornmeal Dumplings
Made with beer, quick-cooking tapioca, sugar, Worcestershire sauce, bay leaves, dried thyme, salt, ground nutmeg, black pepper, tomatoes
stovetop, crock pot