Crock Pot Pork Chops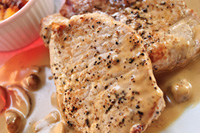 Pork chops turn out extra tender and juicy when made in the slow cooker. Try some of our favorite recipes like pork chops and stuffing, chops and rice, or pepsi pork.
Pork Chops And Rice
A creamy one-dish crock pot meal made with pork chops, rice, onion soup mix, and cream of mushroom soup.
crock pot
Chinese Pork Chops
Pork chops get a hint of Asian flavor in this recipe using brown sugar, ground ginger, soy sauce, ketchup, and garlic.
crock pot
Awesome Chops
Pork chops are slowly simmered in an onion broth for extra flavor and tenderness.
crock pot
Crazy Chops
These should really be called Crazy Easy Chops. Pork chops, onions, butter, and seasonings. That's it.
crock pot
Smothered Pork Chops
Made with Worcestershire sauce, cream of chicken soup, ketchup, onion, pork chops
crock pot
Cheesy Potatoes and Chops
Pork chops are rubbed with a garlic-seasoned rub and browned. They are then added to the crock pot along with potatoes and covered with a cheesy mushroom sauce.
stovetop, crock pot
Harvest Pork Chops
Made with ground ginger, ground cloves, ground cinnamon, oranges, butternut or delicata squash, garlic salt, ground red pepper, boneless pork chops or cutlets
crock pot
Best-Ever Chops
Meaty pork chops are cooked in a tangy tomato sauce and served over rice.
crock pot
BBQ Pork Chops
Made with pork chops, barbecue sauce, potatoes
crock pot
Creamy Pork Chops
Made with Worcestershire sauce, pork chops, onion, ketchup, cream of chicken soup
crock pot