Crock Pot Pasta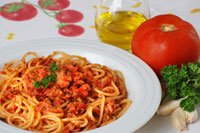 You don't normally associate the crockpot with pasta but these recipes will change your mind. Try a delicious layered lasagna or an easy macaroni and cheese.
Chicken And Angel Hair Pasta
Made with boneless, skinless chicken breasts, onion soup mix, water, garlic, sour cream, mushrooms, chives, angel hair pasta
crock pot
Angel Chicken
Boneless chicken is slow cooked with dry Italian salad dressing mix, mushroom soup, white wine, and cream cheese and served over angel hair pasta.
crock pot
Italian Sausage Pasta Sauce with Spaghetti
Made with tomato paste, tomato sauce, Italian sausage, onions, sugar, dried basil, dried oregano, salt, garlic, crushed tomatoes
stovetop, crock pot
All Day Macaroni and Cheese
Homestyle mac and cheese made with elbow macaroni, cheddar cheese, evaporated milk, regular milk, and eggs.
crock pot
Ravioli Stew
Made with sausage filled ravioli, dried basil, carrots, onions, chicken broth, tomatoes, cannellini beans
crock pot
Baked Macaroni
Made with salt and pepper, sugar, macaroni pasta, cheese, evaporated milk, milk, eggs, margarine
crock pot
Fettucine & Pork Casserole
Made with spinach fettucine, sour cream, red wine, pork tenderloin, canned onions, butter, paprika, caraway seeds, salt and pepper, canned tomatoes
stovetop, crock pot
Garlic Chicken Alfredo
Made with Parmesan cheese, garlic Alfredo sauce, boneless, skinless chicken breast halves, mushrooms, cooked fettucine pasta
crock pot
Lasagna
Made with mushrooms, onion, pizza sauce, cooked rigatoni, ground chuck, sliced pepperoni, green bell pepper, Mozzarella cheese
crock pot
Perogies
Made with bacon, frozen perogies, onions
stovetop, crock pot
Easy Spaghetti
Made with spaghetti noodles, ground beef, onion, garlic, tomato sauce, Italian seasoning, mushrooms, tomato or V8 juice
crock pot