Crock Pot Overnight Breakfast Casseroles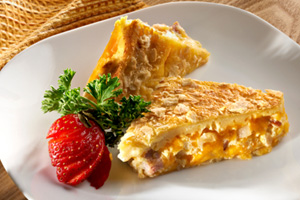 jump to the recipes

Want breakfast in bed? Well, ok, maybe you won't get breakfast in bed but these recipes will be ready when you wake up in the morning thanks to your crockpot.

Make these casseroles the night before - filled with eggs, ham, potatoes, spinach and other yummy ingredients. Sleep well knowing that breakfast is taken care of!
Make-Ahead Egg Casserole

9 reviews 1 comment
Made with black pepper, salt, cheddar cheese, olive oil, bell peppers, onions, eggs, heavy whipping cream or half and half, frozen hash brown potatoes
crock pot, stovetop
Crock o' Breakfast

15 reviews 1 comment
Made with black pepper, salt, skim milk, eggs, frozen hash browns, cooked ham, onion, green bell pepper, cheese
crock pot
Ham And Taters Breakfast Casserole

4 reviews 1 comment
Made with milk, eggs, frozen tater tots, ham, onion, green bell pepper, Cheddar cheese
crock pot
Morning Casserole

3 reviews
Made with black pepper, salt, milk, eggs, frozen hash brown potatoes, bacon or ham, onion, green bell pepper, cheddar or Monterey Jack cheese
crock pot
Sausage and Cheddar Breakfast Casserole

1 review
Made with yellow mustard, eggs, bread, milk, cheddar cheese, sausage, salt & pepper
crock pot, stovetop
Cowboy Breakfast Casserole

1 review
Made with butter, potatoes, ground beef, eggs, milk, salt and pepper, Mexican cheese, white onion, garlic, red hot pepper
crock pot
Spinach & Bacon Breakfast Casserole

2 reviews
Made with salt, evaporated milk, eggs, white bread, frozen spinach, bacon, cheese, red bell pepper, onion, cream of celery soup
crock pot
Rice Breakfast
Made with lemon juice, vanilla extract, brown rice, millet, barley, water, dates
crock pot