home > recipes > cooking method > crock pot > side dishes > crock pot vegetables > mushrooms
Crock Pot Mushrooms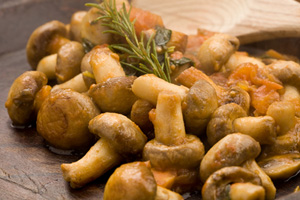 jump to the recipes

Mushrooms are a versatile side dish, which is why they are one of my favorites. These crockpot recipes make my favorites even easier!
Ranch Mushrooms
23 reviews 8 comments
Three ingredients make up this popular crock pot side dish: mushrooms, ranch salad dressing mix, and butter.
crock pot
Magnificent Mushrooms
Made with white wine, chicken broth, mushrooms, butter, marjoram, chives, salt and pepper
crock pot
Herbed Mushrooms
1 review
Made with whole mushrooms, butter, onion, basil, oregano, thyme, lemon juice, sherry, red pepper flakes
crock pot
Lowfat Mushroom Stroganoff
Made with flour, portobello mushrooms, beef broth, red wine, onion, bay leaf, garlic, sour cream
crock pot