Crockpot Meat And Poultry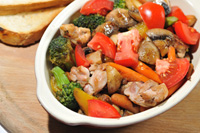 Sesame Seed Chicken
Made with sesame seeds, ketchup, skinless, boneless chicken thighs, soy sauce, brown sugar, garlic powder, ground ginger
crock pot
Ground Beef and Potato Meal
Made with water, ground beef, black pepper, garlic, thyme, potatoes, onions, cream of mushroom soup
stovetop, crock pot
Hawaiian Chicken
Made with ginger, salt, lemon juice, boneless, skinless chicken breast halves, pineapple chunks, mandarin oranges, cornstarch, brown sugar
crock pot
Barbecue Pork Loin Ribs
Made with pork loin back ribs, garlic, salt, black pepper, onions, brown sugar, prepared mustard, ketchup
crock pot
Broccoli Rice and Chicken
Made with pepper, chicken broth, chicken tenders or boneless breasts, rice, cream of broccoli soup mix
crock pot
Easter Ham
Not overly sweet, not overly salty, this crock pot ham recipe is ideal for Easter or any time. Bonus: clean up is a breeze!
crock pot
Rump Roast And Vegetables
Made with carrots, potatoes or sweet potatoes, rump roast, beef broth, Worcestershire sauce, basil or thyme
oven, stovetop, crock pot
Chicken With Stuffing
Made with boneless skinless chicken breast halves, cream of chicken soup, water, corn bread stuffing mix, butter or margarine
crock pot
7-Up Chicken
7-Up soda works as a tenderizer and sweetener in this chicken crock pot recipe.
crock pot