Crock Pot Holiday Meals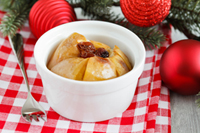 Make the holidays not only delicious, but extra easy with these crockpot recipes. Make the Easter ham in the slow cooker, the Thanksgiving stuffing, or simmer some festive hot apple cider.
Easter Ham
Not overly sweet, not overly salty, this crock pot ham recipe is ideal for Easter or any time. Bonus: clean up is a breeze!
crock pot
Bayou Gumbo
Sausage, shrimp, okra and rice provide all the great flavors of a classic Louisiana style gumbo in this recipe but with the ease of the crock pot.
crock pot, stovetop
Hashbrown Casserole
Made with butter, sour cream, hash brown potatoes, Cheddar cheese soup, cream of mushroom soup
crock pot
Turkey Soup
Made with turkey stock, stewed tomatoes, celery, carrots, onion, potatoes, corn, green beans, bay leaves, turkey
crock pot
Bacon Wrapped Dogs
Hot dog pieces (or "lil' smokies") are wrapped in bacon, coated in brown sugar, and then slow cooked until the bacon caramelizes. The ultimate party food!
crock pot
Spicy Cajun Buffalo Wings
Chicken wings are combined with spicy ingredients like spicy bbq sauce, cayenne pepper, jalapeno sauce, Tabasco, and Cajun seasoning in the crock pot and slowly simmered until tender (and HOT!)
crock pot
Cheesy Potatoes
Made with cream of chicken soup, onions, butter or margarine, frozen hash browns, sour cream, cheddar cheese, Monterey Jack cheese
oven, crock pot
Shrimp Creole
A slow cooked version of authentic shrimp creole made with the holy trinity (celery, onion, bell pepper), tomatoes and tomato sauce, garlic, Tabasco, and shrimp all served over hot rice.
crock pot
Turkey-Barley Soup
Made with turkey or chicken broth, bay leaf, turkey, dried thyme, pearl barley, dried marjoram, onion, black pepper, celery, fresh parsley
crock pot, stovetop
Easy Ham
Made with water, smoked old fashioned ham
crock pot
Shrimp Jambalaya
Made with parsley, oregano, boneless chicken breasts, smoked sausage, shrimp, crushed tomatoes, onion, green bell pepper, chicken broth, white wine
crock pot