Crock Pot Hash Brown Potatoes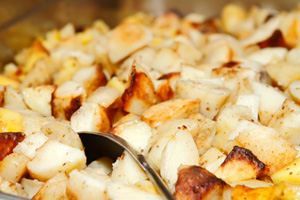 jump to the recipes

Hashbrowns are comfort food in my book. I like them plain as a breakfast side but I also like them in casseroles. Most of all I like my crockpot - so these recipes are a win-win!

These recipes call for various cream soups (cream of mushroom, cream of potato, etc) along with some add-ins like veggies, bacon or cheese. These make a perfect side dish for dinner or brunch.
Hashbrown Casserole

10 reviews 4 comments
Made with butter, sour cream, hash brown potatoes, Cheddar cheese soup, cream of mushroom soup
crock pot
Cheesy Potatoes

3 reviews
Made with cream of chicken soup, onions, butter or margarine, frozen hash browns, sour cream, cheddar cheese, Monterey Jack cheese
oven, crock pot
Cheesy Hash Brown Potatoes

1 review
Made with paprika, Parmesan cheese, cheddar cheese soup, buttermilk, butter or margarine, seasoned salt, garlic powder, black pepper, hash brown potatoes
crock pot
Creamy Hash Browns

1 review
Made with black pepper, frozen cubed hash brown potatoes, Velveeta, sour cream, cream of chicken soup, cream of celery soup, bacon, onion, butter or margarine
crock pot
Creamy Hash Brown Potatoes
Made with chive and onion cream cheese, salt, black pepper, frozen southern-style hash brown potatoes, cream of potato soup, colby-monterey jack cheese, sour cream
crock pot
Hash Brown Casserole
Made with French fried onions, frozen hash browns, evaporated milk, Cheddar cheese soup, cream of mushroom, chicken or celery soup
crock pot
Home-Style Hash Brown Casserole
Made with frozen hash brown potatoes, salt, sour cream, cream of mushroom soup, black pepper, processed cheese, onions
crock pot
Ranch Potatoes
Made with cream of potato soup, ranch dressing mix, cream cheese, frozen hash browns
crock pot
Ham And Potato Hash

1 review
Made with garlic pepper, garlic powder, green onions, Dijon mustard, frozen hash brown potatoes, green bell pepper, red bell pepper, ham, cream cheese, milk
crock pot
Hearty Hash Brown Potatoes
Made with frozen hash brown potatoes, ground turkey or beef, onion, cream-style corn, mushrooms, cream of chicken soup
stovetop, crock pot
Scallop Potato-Tomato Pot
Made with stewed tomatoes, frozen shredded hash browns, green beans, onion, dried parsley, cream of celery soup
crock pot