Crockpot Fish And Seafood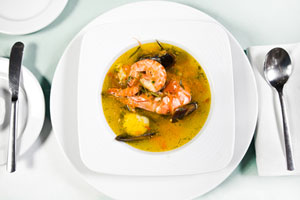 jump to the recipes

The slow cooker is often under used when it comes to cooking fish or seafood. You have to be careful not to overcook seafood, like shrimp. But ingredients like canned salmon or tuna hold up well to longer cooking times.
Shrimp Creole

3 reviews
A slow cooked version of authentic shrimp creole made with the holy trinity (celery, onion, bell pepper), tomatoes and tomato sauce, garlic, Tabasco, and shrimp all served over hot rice.
crock pot
Fish Au Gratin

3 reviews
Made with Cheddar cheese, lemon juice, frozen white fish fillets, butter, flour, salt, dry mustard, nutmeg, milk
stovetop, crock pot
Caribbean Shrimp and Rice
Made with cooked rice, frozen shrimp, chicken broth, garlic powder, chili powder, dried oregano, frozen peas, tomatoes
crock pot
Tuna Noodle Casserole

2 reviews
Made with water, noodles, salt, onion, tuna, peas, cream of mushroom soup
crock pot
Company Casserole

1 review
Made with almonds, rice, butter or margarine, cut-up cooked chicken, chicken broth, mushrooms, soy sauce, shrimp, green onions
crock pot
Cheesy Shrimp Pasta
Made with pasta, process cheese, half-and-half, tomatoes and green chiles, onion, garlic, shrimp
crock pot
Greek Shrimp
Made with olive oil, onion, garlic, tomatoes, tomato paste, dry wine, parsley, dried oregano, black pepper, shrimp
stovetop, crock pot
Shrimp Marinara
Made with shrimp, seasoned salt, tomatoes, parsley, garlic, dried basil, salt, black pepper, dried oregano, tomato paste
crock pot
Seafood Medley
Made with black pepper, salt, Old Bay seasoning, shrimp, crab meat, bay scallops, cream of celery soup, milk, butter
crock pot
Tuna Noodle Casserole
Made with toasted sliced almonds, egg noodles, water packed tuna, cream of mushroom soup, milk, parsley, frozen mixed vegetables
crock pot
Cajun Chicken And Shrimp
Made with celery, onion, unsalted diced tomatoes, quick cooking tapioca, dried basil, tomatoes with green chilies, medium shrimp, frozen sliced okra, cooked long grain brown rice
crock pot
Chow Mein Casserole

1 review
Made with chow mein noodles, onion, milk, tuna fish, celery, green bell pepper, cream of mushroom soup
crock pot