Crock Pot Dinner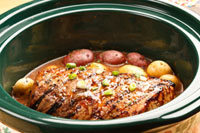 The main dish, the star of the show: Dinner. This is the recipe that the rest of the meal is planned around so make it the best. And make it in your crockpot. You can cook all kinds of entrees from meatballs to duck to tofu to scallops in your slow cooker.
Pheasant in Mushroom Sauce
Made with paprika, mushrooms, cream of chicken soup, pheasants, chicken broth, flour, Worcestershire sauce, salt, onion, garlic
crock pot
Cornish Game Hens
Made with orange peel, lemon juice, cornish game hens, stuffing mix, chicken stock, orange, orange juice, honey, vegetable oil
crock pot
Shredded Pork Wraps
Made with lettuce, salsa, pork loin roast, cornstarch, flour tortillas, cheddar cheese
crock pot
40 Clove Garlic Vampire Chicken
Made with French bread, garlic, fresh rosemary, thyme, sage, Italian parsley, black pepper, roasting or fryer chicken, celery
crock pot
Spicy Joes
Sloppy joes are great in the crock pot! This spicy version is made with ground beef and gets its heat from spicy V8 juice, chili powder, and jalapenos.
stovetop, crock pot
Shrimp Creole
A slow cooked version of authentic shrimp creole made with the holy trinity (celery, onion, bell pepper), tomatoes and tomato sauce, garlic, Tabasco, and shrimp all served over hot rice.
crock pot
Cornish Game Hens with Orange Sauce
Made with orange peel, lemon juice, vegetable oil, rock Cornish game hens, stuffing mix, chicken stock, orange, orange juice, honey
crock pot
American Chop Suey
Made with chicken broth, soy sauce, pork stew meat, beef stew meat, onion, celery, water chestnuts, bean sprouts, bamboo shoots, mushrooms
stovetop, crock pot
Pineapple Chicken
Made with garlic, soy sauce, Dijon mustard, pineapple chunks, paprika, black pepper, boneless, skinless chicken breast halves
crock pot
Barbecue Pork
Made with barbecue sauce, boneless pork roast, whole cloves, onion, water
crock pot
Meatballs With Sweet Orange Chipotle
Made with chipotle pepper in adobo sauce, dried oregano, orange zest, ground beef, non-stick cooking spray, instant mashed potatoes, fresh cilantro, egg, garlic, salt
crock pot, stovetop
Lamb Chops
Made with garlic, onion, dried oregano, dried thyme, garlic powder, salt, black pepper, lamb loin chops
crock pot