Crock Pot Desserts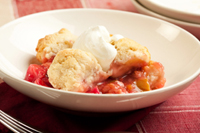 The crock pot isn't just for soups and stews, you can also use it to make your favorite desserts. Try one of these recipes for bread pudding, apple cobbler or even crockpot brownies!
Easy Peach Cobbler
Made with butter or margarine, nutmeg, peaches, oats, all-purpose flour, brown sugar, cinnamon
crock pot
Apple Cobbler
Made with apple pie filling, yellow cake mix, butter
crock pot
Perfect Rice Pudding
Made with nutmeg or cinnamon, salt, white rice, sugar, eggs, milk, vanilla extract
crock pot
Pineapple Upside Down Cake
Made with unsalted butter, dark brown sugar, dark rum, pineapple rings, pineapple juice, cherries, cake flour, baking powder, sugar, ground cinnamon
crock pot
Breakfast Apple Cobbler
Tart apples are mixed with sugar, lemon juice, and cinnamon and then topped with your favorite granola cereal. Slow cook overnight and you will wake up to a delicious breakfast.
crock pot
White Chocolate Bread Pudding
Combine French bread cubes, white chocolate, egg substitute, and sweetened condensed milk in the slow cooker for a delicious bread pudding.
crock pot
Bread Pudding
Made with raisins, ground nutmeg, cinnamon or white bread, milk, eggs, sugar, butter, vanilla extract
crock pot
Chocolate Mess
Made with water, eggs, oil, chocolate chips, chocolate pudding mix, sour cream, chocolate cake mix
crock pot
Easy Dessert
Made with butter, cherry or apple pie filling, yellow cake mix
crock pot