Crock Pot Cornish Game Hen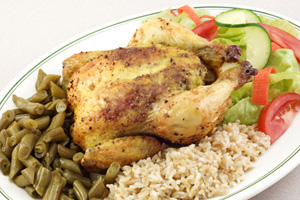 jump to the recipes

Rock Cornish hens are a cross beween a Cornish chicken and a White Rock chicken. They are at most 2 1/2 pounds. Their small size makes them ideal for the crockpot.

For the most part you can cook them with the same ingredients and spices that you use for regular chicken. Some of our more popular game hen recipes use orange sauce or cherries in them.
Cornish Game Hens

10 reviews
Made with orange peel, lemon juice, cornish game hens, stuffing mix, chicken stock, orange, orange juice, honey, vegetable oil
crock pot
Lemon Pepper Cornish Hens

1 review
Made with salt, lemon pepper seasoning, Cornish hens, chicken broth, garlic
crock pot
Cornish Game Hens

1 review 1 comment
Made with Rock Cornish hens, garlic, red onion, salt, black pepper, chili powder, olive oil, sugar snap peas, baby carrots
crock pot
Lime-Glazed Cornish Hens

4 reviews
Made with soy sauce, white wine, lime juice, cornish game hens, stuffing mix, butter, brown sugar
stovetop, crock pot
Rock Cornish Hens
Made with black pepper, salt, lemon, red apple, soy sauce, rock Cornish game hens, dry white or rose wine, orange marmalade
crock pot
Roasted Lemon Almond Cornish Hens

1 review
Made with lemons, Cornish hens, butter, garlic, fresh thyme, black pepper, salt, almonds
crock pot
Cornish Hens with Cherry Sauce
Made with ground allspice, salt, lemon juice, coarsely chopped dried red cherries, red currant jelly, butter, butter -- PLUS, water, (6 oz) pkg stuffing mix, cornish game hens
crock pot
Cornish Hens with Salsa Fresca
Made with fresh parsley, fresh cilantro, green onions, tomatoes, garlic, seasoned salt, black pepper, salt, Cornish game hens, cut in half
crock pot
Plum-Glazed Hens

2 reviews
Made with kiwi fruit, cornish game hens, red pepper flakes, plum jam, onion soup mix
crock pot
Cornish Hen Basque
Made with jar (2 oz. size) pimiento, chopped, mushrooms, green pepper, seeded and cut into strips, eggplant, onions, chili powder, black pepper, salt, flour, Rock Cornish hens (about 1 lb each)
crock pot
Red Raisin-Sauced Cornish Hens
Made with allspice, lemon juice, butter or margarine, stuffing mix, Cornish hens, salt and pepper, red currant jelly, golden raisins
stovetop, crock pot