Cook Time
Nutrition
Recipe Newsletter
Crock Pot White Chili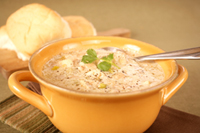 White chili is a non-tomato sauce based chili. It usually has chicken or turkey in it. The crockpot makes the long, slow cooking time a breeze.
White Chili
Ingredients: dried small white beans, olive oil, onion, garlic, chopped green chilies, dried oregano, ground cumin, ground cinnamon, ground red pepper, chicken broth
stovetop
Hide Dish Data™ ▼
Nutrition per serving:
467 calories, 23g fat, 21g carbs, 43g protein.
White Chicken Chili
Ingredients: red pepper sauce, salt and pepper, oregano, cumin, chicken broth, garlic, onion, skinless chicken thighs, great northern beans, corn
crock pot
Show Dish Data™ ▼
Easy White Chicken Chili
Ingredients: cayenne pepper, chili powder, ground cumin, salt, oregano, onion, garlic, diced tomatoes with green chilies, great northern beans, chicken broth
stovetop, crock pot
Show Dish Data™ ▼
Quick And Easy White Chili
2 reviews

Ingredients: picante sauce, navy beans, white chicken
crock pot
Show Dish Data™ ▼
Chicken White Chili
4 reviews

Ingredients: corn, chili powder, garlic, cumin, onions, zucchini, great Northern beans, skinless boneless chicken breasts, chicken broth, sour cream
crock pot
Show Dish Data™ ▼
Chile Blanco Especial (Special White Chili)
9 reviews

Ingredients: flour tortillas, jalapeno pepper, chicken breast, green chiles, ground cloves, ground cumin, dried oregano, salt, white pepper, onion
stovetop, crock pot
Show Dish Data™ ▼
Winter White Chicken Chili
2 reviews

Ingredients: salt, cayenne pepper, oregano, cumin, green chilies, garlic, onion, navy beans, boneless skinless chicken breast halves, chicken broth
stovetop, crock pot
Show Dish Data™ ▼
White Bean Chili
1 review

Ingredients: chili powder, Old Bay seasoning, bay leaves, corn, garlic, tempeh, green chiles, onion, jalapeno, vegetable broth
crock pot
Show Dish Data™ ▼
White Chili
2 reviews

Ingredients: salt, cayenne pepper, dried oregano, cumin, green chiles, garlic, onion, Great Northern beans, skinless, boneless chicken breast halves, chicken broth
stovetop, crock pot
Show Dish Data™ ▼
White Chili Specialty
1 review

Ingredients: cumin, green chiles, onion, boneless, skinless chicken breasts, Great Northern beans, salt, chicken broth, water
stovetop, crock pot
Show Dish Data™ ▼