BROWSE
RELATED
Cook Time
Recipe Newsletter
Crock Pot Chili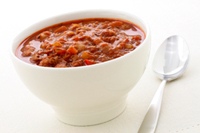 The best chili is slow cooked to perfection, and these recipes fit the bill since they are made in your crockpot. Try a delicious recipe like white chicken chili or pork chili verde.
Steak And Black Bean Chili
Ingredients: tomato sauce, stewed tomatoes, chopped green chilies, olive oil, dried Mexican oregano, ground cumin, chili powder, flank steak, garlic, onions
crock pot
Homemade Chili
4 reviews

Ingredients: salt, sugar, chili powder, tomato paste, kidney beans, tomatoes, garlic, onion, ground beef, black pepper
stovetop, crock pot
Show Dish Data™ ▼
White Chicken Chili
"A savory delight! This slow cooked chili isn't just yummy, it's also a prize winner. It uses chicken thighs which stay more tender and moist than white meat chicken. It's a mild chili using only a small amount of hot sauce, so feel free to dress it up if you wish."
Ingredients: red pepper sauce, salt and pepper, oregano, cumin, chicken broth, garlic, onion, skinless chicken thighs, great northern beans, corn
crock pot
Show Dish Data™ ▼
Easy White Chicken Chili
Ingredients: cayenne pepper, chili powder, ground cumin, salt, oregano, onion, garlic, diced tomatoes with green chilies, great northern beans, chicken broth
stovetop, crock pot
Show Dish Data™ ▼
Spicy Chili
"Finally, a "spicy" chili that's actually spicy! We absolutely loved this. It had a lot of heat and flavor. You can definitely tone down the spices if you prefer. The cook time in the crock pot was perfect but it can definitely cook longer without compromising the final result. Best of all, it's easy! -VALERIE"
Ingredients: oil, garlic, paprika, oregano, onion, cumin, chili powder, black pepper, ground red pepper, red pepper flakes
crock pot, stovetop
Show Dish Data™ ▼
Green Chili Pork
"The pork was perfectly done! The flavors faded a bit with the long cooking time so I added more (cumin, oregano, etc) during the last 30 minutes or so of cooking (always a good practice to check the flavors towards the end when crock pot cooking). Next time I'd add the "hot" green chiles instead of the regular. -VALERIE"
Ingredients: stewed tomatoes, green chiles, chicken broth, oregano, cumin, onion, oil, boneless pork, garlic, salt and pepper
stovetop, crock pot
Show Dish Data™ ▼
Vegan Chili
3 reviews

Ingredients: black beans, frozen corn, cayenne, cumin, crushed tomatoes, green bell pepper, red bell pepper, garlic, yellow onions, olive oil
stovetop
Show Dish Data™ ▼
Sausage Chili
1 review

Ingredients: tomato paste, tomatoes, kidney beans, green bell pepper, onion, pork sausage, ground beef, celery, garlic, chili powder
stovetop, crock pot
Show Dish Data™ ▼
White Chili
Ingredients: dried small white beans, olive oil, onion, garlic, chopped green chilies, dried oregano, ground cumin, ground cinnamon, ground red pepper, chicken broth
stovetop
Show Dish Data™ ▼