Crock Pot Chicken With Mushrooms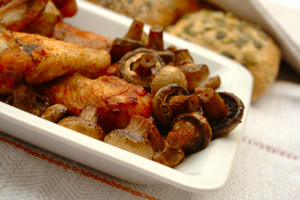 jump to the recipes

The combination of chicken with mushrooms exists in many cultures. You find it in Asian-style stir fries, slow cooked French dishes, and Italian pastas. It even exists... in the crockpot.

Try a wine cooked chicken with merlot, reminiscent of coq au vin. Or maybe a savory Italian chicken made simply with Italian salad dressing mix, cream of chicken soup, and canned mushroom pieces. Whichever you choose, it'll be delicious!
Creamy Mushroom Chicken

1 review
Made with garlic powder, black pepper, salt, white wine, boneless, skinless chicken breast halves, cream of mushroom soup, cream of chicken soup, mushroom pieces, onion, bell pepper
crock pot
All-Day Chicken With Mushroom Gravy

2 reviews
Made with white wine, mushrooms, boneless skinless chicken breasts halves, cream of mushroom soup, salt and pepper
crock pot
Chicken In Wine And Mushroom Sauce
Made with mushrooms, bay leaf, chicken breast halves without skin, dried thyme, dried basil, dry mustard, salt, black pepper, red burgundy wine, tomato paste
stovetop, crock pot
Mushroom Chicken In Sour Cream Sauce

1 review
Made with fresh mushrooms, dry white wine or chicken broth, sour cream, salt, black pepper, paprika, lemon pepper, garlic powder, skinless, bone-in chicken breast halves, cream of mushroom soup
crock pot
Thyme Chicken And Mushrooms
Made with chicken broth, dried tomato pieces, carrot, quick-cooking tapioca, dried thyme, dried basil, garlic salt, black pepper, chicken thighs or drumsticks, linguine or fettucine, or hot cooked
crock pot
Chicken With Mushroom Gravy

1 review
Made with cream cheese, Italian salad dressing mix, green chilies, canned mushroom stems and pieces -- drained, milk, mushroom gravy, boneless skinless chicken breast halves (6 oz size)
crock pot
Italian Chicken With Mushrooms
Made with jar (8-ounce size) mushrooms stems and pieces, drained, (10 1/2-ounce size) cream of chicken soup, cream cheese, Italian salad dressing mix, boneless, skinless chicken breast halves
crock pot
Mushroom Barley Chicken
Made with salt, butter, chicken pieces, mushrooms, pearled barley, carrots, onion, celery, chicken broth, poultry seasoning
stovetop, crock pot
Chicken Merlot with Mushrooms
Made with onion, garlic, chicken broth, tomato paste, dry red wine (such as Merlot) or chicken broth, quick-cooking tapioca, fresh basil, dried basil, sugar
crock pot
Tarragon Mushroom Chicken

1 review
Made with all-purpose flour, garlic powder, Worcestershire sauce, tarragon, boneless skinless chicken breast halves (4 oz size), cream of chicken soup, (4.5 oz size) sliced mushrooms -- drained
crock pot