Crock Pot Chicken Thighs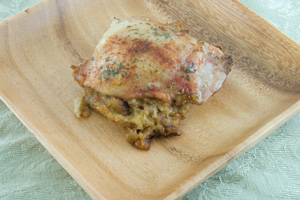 jump to the recipes

The thigh of the chicken is quite possibly the most tender part. While it is fattier than the breast meat, it is more flavorful and holds up the best in the crockpot.

Like all chicken, it works great with a variety of flavors. It can go spicy like the recipe for glazed peach jalapeno pepper thighs, or savory like the smothered buttermilk chicken with peas over biscuits. So fire up that crockpot and get cooking, your dinner of delicious chicken thighs awaits!
Saucy Chicken Thighs

2 reviews 1 comment
Made with hot pepper sauce, Worcestershire sauce, chicken thighs, salt, black pepper, barbecue sauce, honey, prepared mustard
oven, crock pot
Italian Saucy Chicken Thighs

2 reviews 1 comment
Made with Italian seasoning, salt and pepper, bone in/skinless chicken thighs, Italian style diced tomatoes, tomato sauce, onion, garlic
crock pot
Garlic Chicken

3 reviews
Made with water, cornstarch, vegetable oil, boneless, skinless chicken thighs, honey, soy sauce, ketchup, garlic, fresh ginger root, pineapple tidbits
stovetop, crock pot
Chicken In Red Wine

1 review
Made with pearl onions, black pepper, salt, dried thyme, garlic, bay leaves, dry red wine, mushrooms, chicken broth, all-purpose flour
microwave, crock pot
Chicken Bites
Made with Monterey jack cheese, barbecue sauce, boneless, skinless chicken thighs, onion, bell peppers, chicken broth, black pepper
crock pot
Chicken And Vegetable Bake

1 review
Made with Italian salad dressing, salt and pepper, chicken thighs, frozen vegetables, whole potatoes, water chestnuts, garlic powder
crock pot
Sofrito Chicken

1 review 1 comment
Made with olive oil, sofrito, garlic, celery, kosher salt, skinless, boneless chicken thighs, black pepper
crock pot
Smothered Buttermilk Chicken With Peas Over Biscuits
Made with buttermilk, boneless skinless chicken thighs, carrots, onion, water, margarine or butter, salt, black pepper, bay leaf, chicken gravy mix
oven, crock pot
Bavarian Chicken Thighs

1 review
Made with boneless chicken thighs, sauerkraut, French salad dressing
crock pot
Cajun Chicken And Shrimp
Made with celery, onion, unsalted diced tomatoes, quick cooking tapioca, dried basil, tomatoes with green chilies, medium shrimp, frozen sliced okra, cooked long grain brown rice
crock pot
Greek Chicken And Vegetable Ragout
Made with egg yolks, carrots, potatoes, chicken broth, boneless, skinless chicken thighs, white wine, garlic, salt, artichoke hearts, egg
stovetop, crock pot