Crock Pot Chicken Drumsticks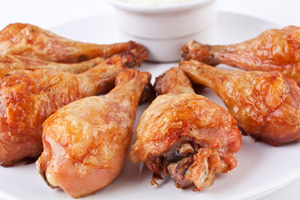 jump to the recipes

The leg of the chicken and considered dark meat. Because it's slightly fattier than it's white meat counterparts, it does great in the crockpot (it doesn't dry out as easily with the long cooking time). The results are moist and tender chicken.

Check out some of our favorites for braised, barbecued and "sticky" style drumsticks.
Sticky Drumsticks

2 reviews
Made with onion, salt, paprika, chili powder, onion powder, thyme, white pepper, garlic powder, black pepper, chicken drumsticks
crock pot
Lemon Herb Drumsticks

2 reviews
Made with salt and pepper, garlic, chicken drumsticks, lemon juice, white wine or marsala, olive oil, rosemary, onions
crock pot
Texas-Style Barbecued Chicken

1 review
Made with barbecue sauce, celery seed, chicken legs, flour, salt, black pepper, shortening, paprika
stovetop, crock pot
Spicy Hot Chicken Legs

1 review
Made with blue cheese salad dressing, chicken drumsticks, hot red pepper sauce, butter, garlic powder, onion powder, salt and pepper
crock pot
Chicken Legs

1 review
Made with heavy cream, salt, chicken legs, ground ginger, chili powder, butter, tomatoes, onion, canned mushrooms, garlic
stovetop, crock pot
Drumsticks Diablo

2 reviews
Made with salt, black pepper, margarine, tomatoes, brown sugar, cider vinegar, Worcestershire sauce, chili powder, dry mustard, celery seeds
stovetop, crock pot
Chicken Braised With Mushrooms And Root Vegetables
Made with chicken drumsticks, all-purpose flour, salt and pepper, butter, vegetable oil, onion, whole mushrooms, chicken broth, Dijon mustard, red potatoes
stovetop, crock pot
Chicken Drumsticks and Sourdough Stuffing
Made with carrot, non-stick cooking spray, lemon peel, sage, seasoned salt, black pepper, chicken legs, olive oil, button mushrooms, garlic
stovetop, crock pot