Crockpot Chicken Breasts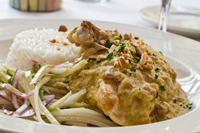 Chicken breasts are the leaner pieces of the chicken making them a healthier choice. The downside is the leaner white meat can easily dry out. The slow cooker will keep the meat moist because it traps steam inside when it cooks. If your chicken dries out when cooking it, check the lid of the unit to make sure it fits snugly. You don't want steam escaping. It's also typically better to use the lower heat settings on leaner meats, if the recipe provides that option.
Angel Chicken
Boneless chicken is slow cooked with dry Italian salad dressing mix, mushroom soup, white wine, and cream cheese and served over angel hair pasta.
crock pot
Italian Chicken & Potatoes
Skinless chicken breast halves are cooked on top of potato wedges and topped with Italian salad dressing and parmesan cheese.
crock pot
Chicken and Green Bean Bake
Boneless chicken is cooked with cream of mushroom soup, green beans, and topped with French fried onions.
crock pot
7-Up Chicken
7-Up soda works as a tenderizer and sweetener in this chicken crock pot recipe.
crock pot
Easy Smothered Chicken
A delicious gravy is the result when chicken is cooked with cream of mushroom soup, cream of chicken soup, and a can of French onion soup.
crock pot
Creamy Italian Chicken
Made with rice or pasta, mushroom stems and pieces, boneless skinless chicken breast halves, dry Italian salad dressing mix, water, cream cheese, cream of chicken soup
crock pot
Chicken With Stuffing
Made with boneless skinless chicken breast halves, cream of chicken soup, water, corn bread stuffing mix, butter or margarine
crock pot
Chicken And Ramen Noodles
Made with sour cream, boneless skinless chicken breast halves, cream of chicken soup, ramen noodles
crock pot
Fiesta Chicken
Made with oregano, cumin, oil, boneless, skinless chicken breasts, onion, green pepper, garlic, jalapeno pepper, Mexican-style diced tomatoes
crock pot, stovetop
Simple Sunday Chicken
Made with dry Italian salad dressing mix, chicken breast halves, cream of chicken soup, cream of celery soup, cream cheese
crock pot