Cook Time
Recipe Newsletter
Crock Pot Bread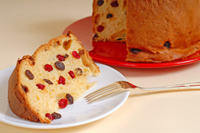 One of the biggest secrets of the crockpot is that it can be used for baking. It uses a moist heat to cook the bread or rolls, giving it them a soft texture that you'll love. You can make everything from banana nut bread to cinnamon rolls. And you can even bake bread from frozen dough.
Honey Wheat Bread
Ingredients: active dry yeast, salt, honey, vegetable oil, dry milk, whole wheat flour, all-purpose flour
crock pot
Hide Dish Data™ ▼
Nutrition per serving:
279 calories, 9g fat, 42g carbs, 11g protein.
Honey Whole Grain Bread
1 review

Ingredients: honey, all-purpose flour, milk, whole wheat flour, vegetable oil, active dry yeast, salt
crock pot
Show Dish Data™ ▼
Lemon Rosemary Bread
1 review

Ingredients: active dry yeast, salt, all-purpose flour (or a mix of half all-purpose flour and half white whole wheat flour), fresh rosemary, lemon zest, water
crock pot
Boston Brown Bread
2 reviews

Ingredients: rye flour, baking soda, salt, whole wheat flour, molasses, sour milk or buttermilk, raisins, corn meal
crock pot
Show Dish Data™ ▼
Corn Bread
Ingredients: flour, cornmeal, sugar, baking powder, salt, egg, milk, butter
crock pot
Banana Bread
Ingredients: dark corn syrup, eggs, sugar, shortening, salt, baking soda, baking powder, all-purpose flour, bananas, walnut meats
crock pot
Show Dish Data™ ▼
Honey Wheat Bread
Ingredients: warm reconstituted dry milk (or skim milk), vegetable oil, honey, molasses, salt, active dry yeast, whole wheat flour, bran, wheat germ
crock pot
Pumpkin Nut Bread
Ingredients: egg, buttermilk, sugar, canned pumpkin, fresh grated nutmeg, cinnamon, salt, baking soda, all-purpose flour, margarine or butter
crock pot
Zucchini Bread
Ingredients: baking powder, salt, flour, vanilla extract, zucchini, vegetable oil, eggs, cinnamon, nutmeg, chopped nuts
crock pot
Show Dish Data™ ▼