Tasty Crock Pot Appetizers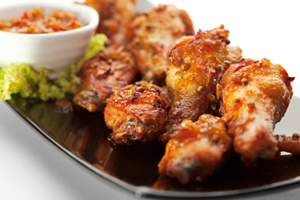 jump to the recipes

Make appetizers the easy way by using your slow cooker. Slow simmered meatballs, hot dip, and even chicken wings can be made in the crock pot freeing up your kitchen and time!
Spinach and Artichoke Dip

13 reviews
Made with tortilla chips, fresh spinach, mozzarella cheese, cream cheese, Parmesan cheese, garlic, ground black pepper, artichokes
crock pot
Easy Barbecue Wings

4 reviews 2 comments
Made with barbecue sauce, frozen chicken wings
crock pot
Asian Spiced Chicken Wings

10 reviews 1 comment
Made with soy sauce, brown sugar, ketchup, ginger, garlic, sherry, hoisin sauce, lime juice, sesame seeds, green onions
oven, crock pot
Rotel Cheese Dip

3 reviews
Made with processed cheese, tomatoes with chiles
crock pot
Chicken Wings

21 reviews
Made with soy sauce, chicken wings, brown sugar, mustard
stovetop, crock pot
Bacon Wrapped Dogs

8 reviews 1 comment
Hot dog pieces (or "lil' smokies") are wrapped in bacon, coated in brown sugar, and then slow cooked until the bacon caramelizes. The ultimate party food!
crock pot
Spicy Cajun Buffalo Wings

2 reviews
Chicken wings are combined with spicy ingredients like spicy bbq sauce, cayenne pepper, jalapeno sauce, Tabasco, and Cajun seasoning in the crock pot and slowly simmered until tender (and HOT!)
crock pot
Little Smokies Appetizer

2 reviews
Made with grape jelly, cocktail wieners, chili sauce
crock pot
Drunken Dogs

4 reviews
Made with onion, ketchup, brown sugar, bourbon, water, beef wieners
electric skillet/wok, crock pot
Marinated Chicken Wings

2 reviews
Made with ground ginger, sugar, chicken wings, soy sauce, white wine or chicken broth, vegetable oil, garlic
crock pot
Honey BBQ Wings

1 review
Made with Tabasco sauce, black pepper, chicken wings, honey, ketchup, vinegar, seasoned salt
crock pot
Pizza Meatballs

3 reviews
Made with ground beef, onion powder, egg, panko bread crumbs, garlic, Worcestershire sauce, Italian seasoning, salt and pepper, tomato sauce
oven, crock pot