BROWSE
Recipe Newsletter
Recipes for the Bread Machine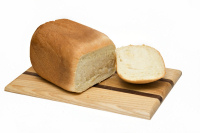 What a great way to make bread. No need to knead! Let the machine do the work and the result is delicious fresh-baked bread. You can also use your bread maker for bagels, pretzels, pizza dough, bread sticks, flatbread, dinner rolls and more!
Country White Loaf - Bread Machine
1 review

Ingredients: yeast, canola oil, salt, sugar, dry milk, bread flour, water, active dry yeast
bread machine
Show Dish Data™ ▼
Beautiful Buttermilk Bread
1 review

Ingredients: instant yeast, powdered buttermilk, salt, bread flour, unsalted butter; room temp., maple syrup, water; room temp.
Show Dish Data™ ▼
Garlic Breadsticks ABM
2 reviews

Ingredients: water, warm water (90-100 degree F), bread flour, dry milk, sugar, salt, butter or margarine, active dry yeast, olive oil, fresh garlic cloves crushed
Outback Steakhouse Honey Wheat Bushman Bread (Bread Machine)
Ingredients: caramel color, yeast, salt, instant coffee, sugar, cocoa, wheat flour, bread flour, honey, butter
oven, bread machine
Show Dish Data™ ▼
Rye Bread
Ingredients: butter, salt, caraway seed, brown sugar, bread flour, rye flour, yeast, water
bread machine
Show Dish Data™ ▼
Bread Machine Bagels
Ingredients: egg white, corn meal, sugar, water, active dry yeast, bread flour, sugar, salt, water, poppy seeds
stovetop, bread machine
Show Dish Data™ ▼