home > recipes > meals / dishes > dinner meals > 30 minute meals > thirty-minute gourmet
The 30 Minute Gourmet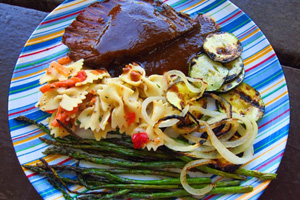 jump to the recipes

Who says that gourmet food can't be quick? These upscale meals are ready in under 30 minutes but will impress even the most hardcore foodies.
Mahi Mahi Soft Tacos with Chipotle Yogurt Sauce
3 reviews
Mahi mahi is seasoned and sauteed then piled onto flour tortillas along with shredded cabbage and a chipotle chile-yogurt sauce.
stovetop, microwave
Tempura Pork Tenderloin Medallions with Pineapple Ginger Sauce
2 reviews
Pork tenderloin medallions are coated in a light tempura batter and deep fried. Served with a delicious dipping sauce made with pineapple, ginger, sugar, and red bell pepper
oven, stovetop, deep fryer
Grilled Mahi Mahi on Chopped Salad
2 reviews
Made with cucumber, marinated artichoke hearts, red bell pepper, sweet onion, lettuce, mache or arugula leaves, fresh basil, lemon juice, olive oil
outdoor grill
Crispy Baked Scallops
1 review
Made with kosher salt and freshly ground black pepper, panko, butter, olive oil, dry mustard, cayenne pepper, garlic, parsley, chives, thyme
oven
Olive Garden's Beef Filets In Balsamic Sauce
1 review
Made with beef tenderloin filets, balsamic vinegar, olive oil, butter, yellow onion, salt, black pepper, white wine, marsala wine, beef broth
outdoor grill, stovetop
Rosemary Pork Chops With A Shallot-Balsamic Sauce
1 review
Made with Dijon mustard, balsamic vinegar, shallots, pork chops, salt and pepper, rosemary, olive oil, butter
oven, stovetop
Thai-Style Spicy Shrimp And Noodles
2 reviews 1 comment
Made with garlic, hot chili paste, shiitake mushrooms, asparagus, red cabbage, carrots, green onions, rice noodles, coconut milk, lime juice
stovetop
Beer-Braised Tilapia With Mushrooms And Tomatoes
1 review
Made with diced tomatoes, pale ale, white mushrooms, yellow onion, olive oil, tilapia or catfish fillets, salt, all-purpose flour, garlic, chili powder
stovetop
Lobster Thermador
Made with lemon, cheddar cheese, whole live Maine lobsters, butter, flour, salt, ground nutmeg, paprika, half and half, white wine
oven, stovetop
Tilapia En Papillote With Asparagus & Shrimp
2 reviews
Made with tiny cooked shrimp, lemon juice, asparagus, butter, lemon, salt and freshly ground pepper, tilapia fillets
stovetop, oven
Thai Shrimp And Spinach Curry
1 review
Made with cooked rice, fresh cilantro, spinach, red bell pepper, carrots, naam pla, medium shrimp, Thai green curry paste or red curry paste, unsweetened coconut milk
stovetop
Salmon Steaks In Red Wine
1 review
Made with salmon steaks, Fleur de Sel or Sel Gris, vanilla bean powder, red wine, lemon, parsley
oven