30 Minutes Or Less Recipes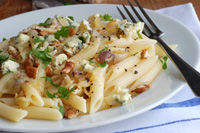 In a hurry? Not much time to cook? Nix the take out and try these recipes, ready in less time than it takes for pizza delivery.

valerie says: For as much as I love to cook, I don't always have the time to make recipes that take an hour or more. On those days, I want something quick and easy, and ready in under 30 minutes. I also don't want to sacrifice great taste!
Baked Tacos
An easy baked version of tacos made by filling flour tortillas with ground beef, beans, salsa, and seasonings. The tacos are baked in the oven and garnished with your standard taco fixings.
oven, stovetop
Panfried Cod
Made with vegetable oil, cod filets, eggs, milk, flour, paprika, black pepper, fresh parsley
stovetop
Grilled Mahi Mahi on Chopped Salad
Made with cucumber, marinated artichoke hearts, red bell pepper, sweet onion, lettuce, mache or arugula leaves, fresh basil, lemon juice, olive oil
outdoor grill
Cheesy Chicken Noodle Casserole
Made with black pepper, parsley, seasoned salt, skinless boneless chicken breasts, cream of chicken soup, olive oil, Velveeta cheese, egg noodles, corn
stovetop
Crispy Baked Scallops
Made with kosher salt and freshly ground black pepper, panko, butter, olive oil, dry mustard, cayenne pepper, garlic, parsley, chives, thyme
oven
Southwestern Cheesy Chicken Skillet
Made with fresh parsley, sour cream, boneless skinless chicken breasts, elbow macaroni pasta, water, Mexican cheese, diced tomatoes with green chiles
stovetop
Three-Cheese Tortellini And Peppers
Made with romano cheese, black pepper, salt, tortellini, red bell pepper, orange bell pepper, yellow bell pepper, olive oil, onion, garlic
stovetop
Olive Garden's Beef Filets In Balsamic Sauce
Made with beef tenderloin filets, balsamic vinegar, olive oil, butter, yellow onion, salt, black pepper, white wine, marsala wine, beef broth
outdoor grill, stovetop
Thai Chicken Stir-Fry With Spicy Peanut Sauce
Made with broccoli or spinach, crushed red pepper, garlic, boneless, skinless chicken breast halves, water, peanut butter, soy sauce, brown sugar, peanut or vegetable oil
stovetop
Turkey And Mushroom Marsala
Made with parsley, turkey or chicken broth, marsala wine, olive oil, turkey cutlets, salt, black pepper, flour, mushrooms
stovetop